Trusted, quality cleaning services in Wishart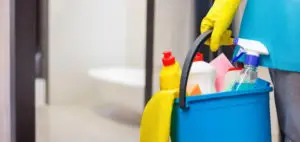 It can be tough sorting through all the different cleaning services across the southside of Brisbane. Many overcharge for thorough work, or charge less but don't offer more than superficial housekeeping. And because city life is so fast-paced, you might not have the time to weigh the pros and cons of every service available.
That's why we like to be upfront about our services at Home Style Cleaning, so you know exactly what to expect. We respect your time, just as our staff respect your home and personal standards, so we'd like to make the process of choosing a service easier for you. As soon as you have a trustworthy cleaner, you'll be able to regain some of your free time.
Cleaners with a personal touch
If, like most of us, you are particular about how you like your home environment, many cleaning services could leave you frustrated. When founder Kristina saw this dissatisfaction from customers in response to the impersonal routines that many cleaners are trained to carry out, she decided to focus Home Style Cleaning on more effective methods of communication.
All of our insured and background-checked staff are devoted to treating every home on an individual basis. We make sure to learn how you like things, so we can leave everything just right when we're finished with our comprehensive cleans.
Convenience and affordability
Because we have cleaners situated all over the city, we can provide flexible booking times along with competitive prices. No matter what your schedule looks like, you can book with us by appointment on both weekdays and weekends.
But unlike other companies, we don't offer convenience and affordability at the expense of quality or range of service. From intensive deep-cleans and other once-off tasks, to regular maintenance and specific organising requests, we'd love to take any domestic cleaning off your hands. So, for all of the pros and none of the cons, get in contact with us today.