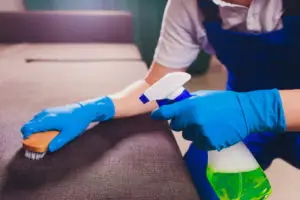 Do you regularly run out of time during the week to keep your Wakerley home clean and then spend all weekend trying to tidy up instead of relaxing? If this sounds familiar, Home Style Cleaning can help you with cleaning and maintaining your home, while giving you back your weekend relaxation and family time.
Kristina and her team at Home Style Cleaning have plenty of experience in cleaning, organising and housekeeping, with a great understanding of providing a high quality, customer friendly and customer focussed service.
We understand that there are a few qualities that really stand out when people are choosing someone to clean their home – punctual, friendly, cost effective and a quality service. We know you value your time, and so do we, which is why we'll make sure there's nothing left to do when you get home.
Window Cleaning in Wakerley
As part of our cleaning services, the team at Home Style Cleaning offer internal and external window cleaning across Wakerley. This is an area that is often forgotten about, is often time consuming, and depending on the size of your home, it can mean working from a ladder; not to mention it is often dirty work. But all this doesn't matter – we can tie in your window cleaning with a full home clean, or we can offer it as a single service.
Do you have a commercial office that needs window cleaning? We can do that! Our cleaning services aren't just restricted to residential properties – our full cleaning services are also available to commercial properties.
Commercial Window Cleaning Wakerley
Whatever your business, having windows that are clean and clear from dust and dirt ensures your customers and clients feel welcomed to your business. Clean windows let the sun shine in, and lift the overall look and feel of your business. We can team up our window cleaning services with your regular office cleaning or we offer this as a one-off clean.
On top of window cleaning, we offer glass cleaning services to mirrors, glass balconies and glass pool fences.
It's not just the windows we clean though – we can also offer a range of other cleaning including standard and regular cleans of your office, deep cleaning, organising and security screen cleaning. Everything is done with the aim to have your business or home clean, tidy and welcoming, all without breaking the bank.
Homestyle Cleaning work with NDIS Registered Providers and offer a 10% discount to all new clients. If your Wakerley home or office needs a one-off or regular clean, we invite you to speak to our friendly team to see how we can help.