Trusted domestic cleaning services in Stafford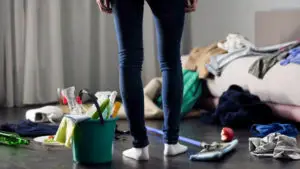 Living in the city often makes for a fast-paced lifestyle, and sometimes cleaning isn't our top priority. Hiring a cleaner may seem like an extra expense, or an unnecessary luxury, but you might be surprised to discover affordable, high-quality services in your area really do exist! And if you only have limited time to yourself, it could be worth booking one just to take the job off your hands, so you can focus on the more important things in life.
With insured, well-trained, police-checked staff, blue cards to ensure child-safety, environmentally-friendly methods, and quality guaranteed, Home Style Cleaning is trusted in homes all across Brisbane.
Experienced and considerate staff
One of the things that sets us apart from other cleaning companies is our consideration for the personal standards of each and every client we see. Our cleaners are highly experienced, not only in areas of sanitation and housekeeping, but also in regards to communication. Because we value customer satisfaction, our training reflects this.
So, whatever your requirements or preferences, you can be sure that our staff will listen and attend to any special instructions you give them. If areas of the home need extra attention, or aren't to be disturbed, just let us know and we'll go out of our way to oblige.
Tailored services to suit you
When a house hasn't been cleaned for around six weeks or more, we recommend a 'deep clean', which can take around five hours depending on size. This is our most intensive service, but after it's done, regular maintenance won't take nearly as long and can be scheduled at your convenience. Or, if you only require a once-off clean, we do onsite quotes to let you know exactly how long it will take and how much it will cost.
Other services include window cleaning, security-screen cleaning, and more specific organisation tasks, so whatever your needs may be, feel free to get in contact today. We'd love to help you regain your free time and relax in a spotless, stress-free home!