Cleaners with a personal touch in Mount Gravatt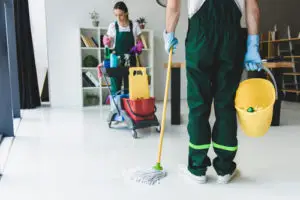 If you live in Mount Gravatt, you might appreciate that it's a bit greener and quieter than other parts of the city. But even with a beautiful place to come home to, it can be hard to maintain your house when you have a busy lifestyle or work long hours. After all that stress, there's no doubt you'd love to return to a clean, tidy space to relax in.
And with Home Style Cleaning, you don't have to worry about your peace and quiet getting disturbed by someone who doesn't know how you like things to be kept. We make it our goal to learn your personal standards and work around your needs.
Friendly faces and safety guaranteed
It can be daunting to invite someone you don't know into your home, but with Home Style Cleaning it's one more thing you don't have to worry about. All of our staff are police-cleared and insured, and if you have young children in the house, you're welcome to request a cleaner with a blue card. We also use child and pet friendly cleaning methods!
Whenever possible, we send the same staff member to do routine cleans, giving you the reassurance of a familiar face who already knows your preferences. However, every cleaner we employ is friendly and approachable with great communication skills, so it's always easy to let us know exactly what your requirements are.
Convenience and a wide range of services
Because our staff are situated all over Brisbane and surrounding areas, we are always local and convenient. This means flexible booking times with competitive costs! So, for cleaning services that don't cut corners, leaving spotless, tailored results at an affordable price, Home Style Cleaning is the company to call.
Beyond routine maintenance, we also do housekeeping and organising, or if your home is in need of more intensive care, we offer 'deep cleans' to really get you back on top of things. Whatever your needs may be, right down to flyscreen, security door and window cleaning, just give us a call to find out how we can help.