Reliable and trustworthy home cleaning in Morningside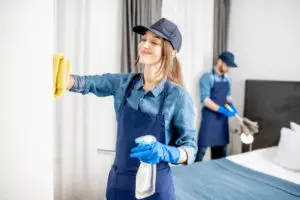 At Home Style Cleaning, we understand that the modern lifestyle is a busy one. When you come home from work, the last thing you feel like doing is cleaning your home. We are here to ensure that when you open your front door and walk inside, your home is cleaned and organised just as you like it.
We offer a range of cleaning services at affordable rates.
Because we have cleaning teams located throughout Brisbane, we will always be able to find a local cleaner for you. This provides greater flexibility when it comes to scheduling your cleaning. And, importantly, it also enables us to offer professional home cleaning at much cheaper rates.
Whether you would like a once-off clean to get on top of things, a deep Spring clean, or regular cleaning, we are the local team to trust. We pride ourselves on offering a boutique service that is tailored to your preferences. Our skilled cleaners are adept in communication, and will always ensure that your home is cleaned in the way you want it to be.
Your home will be cleaned with products that are child, pet, and environment friendly.
When cleaning your home, our team is considerate of all members of your household. If you have children, you are welcome to request a cleaner who has a blue card. You can rest assured that all our cleaners have had a background check as well as thorough training. Every member of our team is friendly, considerate and trustworthy.
In addition to cleaning services, we also offer housekeeping and organisational services.
Would you love your home to be more organised, so that everything feels more manageable? Our housekeeping and organising services will ensure that your home is tidy and organised, helping you feel more on top of things.