Domestic cleaning in Lutwyche – high-quality and affordable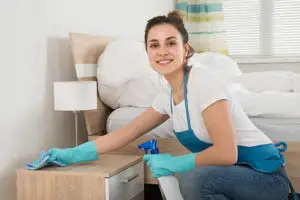 There are many different cleaning services across Brisbane, but if you're looking for something affordable and high-quality in your area, it can take time to sort through reviews and work out who to trust. Often, services will require you to weigh pros and cons – either a spotless house for a small fortune, or a mediocre job for half the price.
However, with Home Style Cleaning, you won't need to choose one over the other. With cleaners situated all over the city, we offer convenience and competitive rates, as well as experienced staff who never cut corners.
Trustworthy, respectful staff
Along with police clearance, insurance, and blue cards for staff who work in homes with children, our staff are trained to communicate effectively. This means that you can expect safe, respectful service from cleaners who listen to your requests. We understand that everyone has their own standards when it comes to how their home is arranged, so we endeavour to learn exactly how you like things, and deliver a personal touch.
Whenever possible, we send the same person to attend to regular cleans for our clients, providing the added trust of a familiar face who already knows your preferences.
Services to suit your lifestyle
With adequate notice, our cleaners are available seven days a week. And, with the convenience of being local, we offer flexible booking times to suit your hours.
If it's been over six weeks since your home was last cleaned, we might recommend an initial 'deep clean', which can be quite a long and intense process, but after this it will be much easier to maintain, either on your own or using our regular services. Beyond cleaning, we also offer organising services, as well as flyscreen and window cleaning. So, whatever your needs, get in touch with us today for quick, efficient, and affordable help.