Reliable cleaning in Kenmore Hills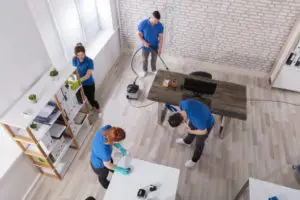 There's nothing quite coming home Friday night from a long work week, kicking off your shoes and settling into the weekend. But then the dread sets in when you begin to think about all the "life admin" tasks that need to be done: cleaning the house, groceries, laundry and more. Home Style Cleaning can help take the pressure off with our home cleaning services.
WE MAKE THINGS EASY
If you've tried organising regular cleans previously with a different cleaner, you may have been left frustrated and disappointed. Many of our competitors in Kenmore Hills and throughout Brisbane are unreliable and lacking in cleaning, communication, customer service and time management skills.
Our cleaners are reliable, punctual, friendly, and fully trained. Once our team visits your home will be left spotless. All cleaners are police checked, fully licenced, certified, insured and many also have blue cards, allowing them to work in households with children.
The cleaning products we use are environmentally friendly as well as child and pet safe, meaning we can work in any household. We're happy to work to any specific requirements you may have for your household, simply let us know.
Whether you need us for regular weekly cleans or a one off special clean, we show up when we say we will and get the job done right the first time.
Our cleaners are local to Kenmore Hills, allowing us to provide our services at competitive, budget friendly prices. A great bonus for first time clients, we offer 10% off your first clean with us. Being local also allows our cleaners to be flexible with scheduling. They can work on a day and time that best suits your busy schedule.
OUR STANDARDS
Our reliability coupled with our high standards is what makes Home Style Cleaning the best home cleaning service in Kenmore Hills. Founder Kristina started the business after being continuously disappointed with ineffective and uncaring cleaners doing a poor job in her own home. She comes from a background of 9 years in the hospitality and education industries, working in many top restaurants and hotels. With this experience, Kristina knows the high standards the hospitality industry commands and expects the same level of proficiency and customer care be carried out by her cleaners.
Free up your weekends for spending time with family, friends or adventuring in the great outdoors when you choose Home Style Cleaning. Get in touch with our friendly team today to book your first appointment.