Domestic cleaning in Kalinga – trusted solutions for busy lifestyles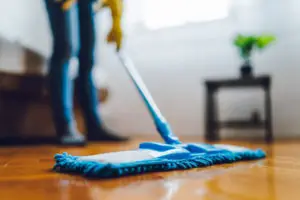 If you live in Brisbane's northside and are looking for a cleaning service, it might be time-consuming to find a company who seems trustworthy. Many people in the city have busy lifestyles, so it's understandable if you don't wish to waste your time worrying if a cleaner is doing their job properly.
At Home Style Cleaning, we do extensive background checks on all of our staff. They are insured, experienced, and have high levels of communication skills, with most even carrying blue cards to work safely in homes with children. So, when you book with us, you won't have to take any time out of your schedule to hunt down someone reliable.
Cleaners with a personal touch
Our training involves far more than routine cleaning. Because so many companies use impersonal methods and end up treating homes like hotel rooms, we like to pride ourselves on a more personalised approach.
Everyone has different standards for how they like their house to be kept, and it can be frustrating to feel like you need to reorganise things after paying for a cleaner to help. That's why we ensure our staff are friendly, approachable, and considerate. No matter what your specifications, we listen and strive to leave your home just the way you like it.
What you can expect from our services
With cleaners all across the city, we are local and convenient, which also allows us to charge competitive rates. But just because we're affordable doesn't mean we cut any corners with our cleaning process. When you hire one of our cleaners, you can expect speedy work at flexible hours, with all your specifications met.
Beyond general once-off and regular cleans, we also do deep cleans, housekeeping, specific organisational tasks, flyscreen cleaning and window cleaning. If you're unsure about what's needed for the upkeep of your home, we also offer onsite quotes to ensure the most accurate service and price. So, whatever your needs, get in contact today and let us take the job off your hands!