Domestic cleaning for busy lifestyles in Holland Park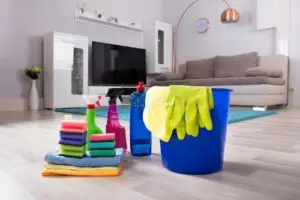 Life in the city can be chaotic, and when your job takes up most of your time, it's hard to keep on top of household chores as well. If you have young kids, you'll no doubt want to spend more quality time with them and less time cleaning up after them. But even if you live alone, it's still hard to find the time for things you enjoy.
Many people don't consider hiring domestic cleaners, either because they're not sure who to trust, or they worry about expenses. However, with Home Style Cleaning, you can be sure that there's at least one company in Brisbane who is both dependable and affordable.
Cleaning with a personal touch
At Home Style Cleaning, we don't just come into your home and treat it like a hotel room, doing routine cleans with no regard for your personal preferences. Our goal is customer satisfaction, and to this end, all of our staff are friendly, approachable, and great with communication. We always strive to learn your requirements, and go out of our way to meet your standards.
Our cleaners are all police-cleared with insurance, so any staff member that comes to your home is guaranteed to be trustworthy. Most also have blue cards, ensuring the safety of any children in the house, and our products are child and pet friendly as well!
Our range of services
Beyond routine cleans, we also offer more intensive once-off cleans. For instance, if your home hasn't been cleaned in six weeks or so and you'd like help to get back on top of things, we may suggest a 'deep clean', which will make future maintenance much easier. But if it's light housekeeping you need, or even specific organising tasks, we can help with these as well.
Flyscreen, security door and window cleaning are all possible with Home Style Cleaning too, so whatever your needs around the house, get in touch today to find out how we can help you regain some of your precious free time!