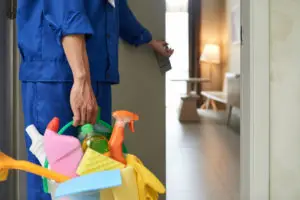 Experienced and respectful cleaners in Gumdale
We don't just train our cleaners to get the job done, we train them to respect your home and privacy, listen attentively to any special requests you may have, and tailor the service to suit your needs exactly. By never cutting corners and making sure to communicate as clearly as possible, we apply experience and thoughtfulness to bring a personal touch to an often impersonal job.
Because of this approach, we're the perfect solution for your busy lifestyle – bringing you a clean home and peace of mind while you get on with the things most important to you.
Safe for you, your family, and your pets!
We also recognise how intrusive it can feel to invite a stranger into your home, but rest assured: we have strict policies regarding police checks and insurance, guaranteeing that all of our cleaners are honest, professional people who will always do their best to put you at ease. Blue cards allow the appropriate staff to work in homes with children, so you don't need to worry about the safety of your family either.
Our environmentally-friendly methods also keep children and pets in mind, meaning nothing we use to clean your home can be harmful to your most precious family members.
Flexible and affordable
Whether you need a once-off clean, a more vigorous 'deep clean', regular maintenance, help with organising, security screen cleaning, or window cleaning of either residential or commercial windows, we offer flexibility and convenience. Located in Manly West, we're only a stone's throw away, and with staff all over Brisbane, it's possible for us to provide competitive rates for our local customers. We even give a 10% discount to new clients!
But just because we're affordable doesn't mean you have to sacrifice in quality. Get in contact today for an obligation-free quote, and discover the possibilities of a reliable, stress-free cleaning service.