Affordable, high-quality cleaning services in Everton Park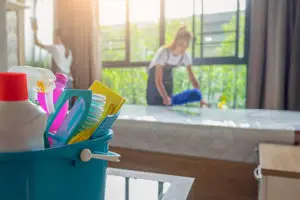 If you have a busy lifestyle, the last thing you want to be focusing on is cleaning the house. When you get very little time to yourself, there are far more important things to do in your spare time, and that's why the right cleaning service can do wonders for your schedule, not to mention your stress levels!
Having a clean environment to come home to and relax in makes a long day easier to cope with, but finding the right service can be stressful too. After all, you are inviting a stranger into your home, so you will need them to be trustworthy as well as experienced.
Trustworthy staff who listen
At Home Style Cleaning, our staff are tested and trained to the highest possible standard, so when it comes to respect for your property and the safety of your family, you can rest assured. Police clearance, insurance, and a high level of communication are always required from our cleaners, many of whom have the blue cards necessary to work in homes with children.
Along with this guarantee of trustworthiness, we also guarantee a personal touch that's hard to find! Instead of routine cleans, we always strive to learn what your personal standards are, and keep your home exactly the way you like it.
Services to suit your needs
If it's been at least six weeks since your last clean, we offer intensive deep cleans – either as a once-off service or followed by regular maintenance. Beyond cleaning, housekeeping, and organising, we also do security door and flyscreen cleaning, as well as window cleaning for both residential and commercial properties.
Whatever your needs, we have staff all over Brisbane, allowing for convenience and competitive prices. So, if affordability, safety, thoroughness, and consideration for your preferences are all high on your list when searching for a cleaner, get in touch today. We offer obligation-free quotes and a 10% discount for new customers!