Safe, reliable cleaning services in Carina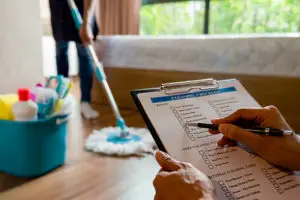 On the southside of Brisbane, life can sometimes get hectic. You may be dubious about hiring a cleaner as it means trusting a stranger in your home, but if it also means regaining a few hours of free time in your week, it might be worth finding the right one.
Thankfully, there are cleaning services with staff who are thoroughly background checked and insured, with proven track records of satisfied customers. And though some charge a lot for this level of professionalism, Home Style Cleaning offers high quality and reliability for affordable costs.
What makes Home Style Cleaning different?
Our staff are selected and trained for their great communication skills, so they are friendly and approachable from the moment they step through your door. This assures that whatever your personal standards are for the cleaning of your home, your cleaner will listen and take everything into consideration.
We don't just follow routines and leave you to reorganise after we're done, we make sure your home is left just the way you like it. This means all the cleaning will be thorough, without disrupting your home environment, so you don't have to lift a finger.
What services do we offer?
With staff situated all over the city, our services couldn't be more convenient, and thanks to this we're able to offer flexible booking times at competitive prices. So long as you arrange ahead of time, we'll have a cleaner available seven days a week, and are happy to work around your schedule.
Beyond regular maintenance, we also do once-off cleans. So, whether your property hasn't been serviced in over six weeks and needs an intensive 'deep clean', or you just need a thorough clean to help get you back on top of things, we're happy to help. Housekeeping, organising, flyscreen, and window cleaning is all possible too, so get in contact today to see how we can help.