Honest, dependable cleaning services in Camp Hill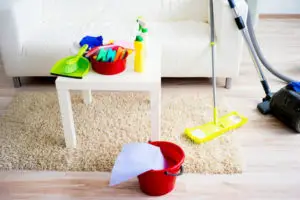 If you're feeling the stress of city life and can't find any time for yourself, you may have considered finding a cleaner to take some chores off your hands. However, it's difficult to know where to start when you're looking for a reputable company. This is someone you'll be welcoming into your personal space after all, so it needs to be someone you can trust.
Ideally, you'll want cleaners who are background-checked appropriately and properly insured, so you don't have the added stress of keeping an eye on them. On top of this, you'll want someone friendly who can communicate efficiently about any requests you might have.
Home Style Cleaning – our difference
At Home Style Cleaning, the focus is 100% customer satisfaction. This means we try to be different from other companies, many of whom use impersonal methods that may disrupt the way you like your house to be kept.
When we come to your home, our trained and experienced staff will always do their best to learn about your personal standards. This may involve areas that need special attention, or areas you'd like us to leave undisturbed. Either way, all you have to do is let us know and we will work around your specifications. With approachable cleaners who are screened and trustworthy, you can get back to focusing on the more important things in life!
Convenience and affordability
Because our staff are spread out across Brisbane, we also offer flexible booking times to suit any lifestyle. Available by appointment seven days a week, you won't have any trouble arranging a time that fits your schedule. And due to being local, we're able to charge competitive rates as well.
But affordability doesn't mean lesser quality. Our cleaners never cut corners, and won't just leave you with a spotless house, they'll leave it just the way you like it. So, if you're ready to get back on top of things and start reducing your stress with one easy step, get in contact with us today!