Domestic cleaners in Bracken Ridge – flexible, reliable, and safe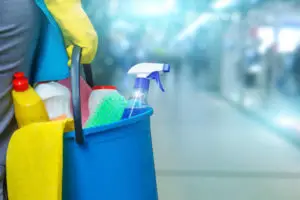 If you've got too much on your plate to worry about cleaning the house and you're dreaming of a convenient service you can trust, look no further. Situated in Manly West, with cleaners spread out all over the city, we're proud to bring high-quality service to satisfied customers in your area. And with the convenience of being local comes flexible booking times as well as competitive prices.
But less expense doesn't mean lower quality. All of our staff are thoroughly background-checked, as well as insured and experienced, with most carrying blue cards, so we can guarantee a high level of safety and respect for your home. On top of this, we only use environmentally-friendly methods, meaning your children and pets are safe from health hazards as well.
The perfect solution for busy lifestyles
Whether you need once-off or regular cleaning, we offer availability by appointment on any day of the week. So, no matter how busy your lifestyle, you can rely on us to work around your hours.
From 'deep cleans', which can be time-consuming but make for easier future maintenance, to things like housekeeping and organising, there are many different ways we can help our busy customers to regain some of their free time. Other services we provide include security-screen and window cleaning, but whatever your needs may be, we'd love to hear from you and see how we can help.
Services tailored to your needs
With attention to detail and strong communication skills as some of our strongest commitments, we believe in delivering a unique service to every home. Beyond simply tidying and disinfecting, we take the extra step to learn your personal standards, ensuring everything is left just the way you like it. So, if you're particular about your home environment (as most of us are), you can trust our cleaners to be approachable and considerate.
We're also happy to do onsite quotes to make sure you get the right service at the right cost, so feel free to contact us today for obligation-free advice!