Safe, reliable domestic cleaning in Bardon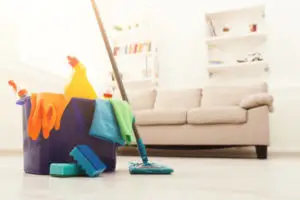 As quaint and convenient as it can be in Bardon, city lifestyles are often busy. Our home is our sanctuary, so it's nice to return after a long day to find everything just how we like it. However, if you work long hours or have a lot on your plate, it becomes difficult to maintain this level of comfort, especially if you barely get enough free time to yourself as it is.
On top of this, it's difficult to find a cleaner who takes the time to learn how you like things. Many will treat your home like a hotel room, with routine methods that don't always take special requests into account. This is where Home Style Cleaning can help.
Domestic cleaning with a difference
At Home Style Cleaning, our company is based on customer satisfaction. Our staff are highly skilled in communication, allowing them to cooperate with you to provide the most personalised service possible. Whether there are areas of your home that need special attention, or even organisational tasks you need help with, we listen and adjust to suit your needs.
We also take into account the importance of trust and safety. All of our team are screened appropriately, and cleaners who have earned blue cards can be requested for homes with children. We also use eco, child, and pet friendly methods to keep your household healthy and happy.
Convenience, quality, and affordability
Whether you live in Bardon, surrounding suburbs, or anywhere else in the city, we have staff spread out all over Brisbane with availability seven days a week (by appointment). This kind of convenience allows us to charge competitive rates, but in our case affordability doesn't equal subpar cleaning.
Our staff never cut corners. For anything from a deep clean, to light, regular housekeeping, we will ensure your satisfaction with care and communication. So, to regain some of your free time while keeping your home just the way you like it, contact Home Style Cleaning on (07) 3073 2625.